In preparation for the BoF on Drupal for Good at Drupalcon in Amsterdam, I asked Porter Mason, Director of Digital Platforms, with the U.S. Fund for UNICEF to share their Drupal experience.
If you work with a nonprofit and would like to share your Drupal experience, share your experience by filling out this form.
---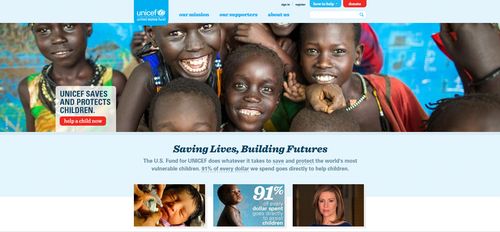 1. Please provide a brief overview of your organization.
The U.S. Fund for UNICEF supports UNICEF's work, and other efforts in support of the world's children, through fundraising, advocacy and education in the United States.
2. Why did your organization move to Drupal and what were you using before? 
We moved to Drupal starting in Fall of 2013 and then completely moved over in Spring of 2014. We had been using Convio Luminate before that as well as WordPress for blogging. We started with 7.23. We work with Jackson River and their Springboard platform, which is a set of modules built for non-profit digital marketing that integrates with Salesforce and an email platform (we use SilverPop).
3. What have you appreciated the most about working with Drupal?
I like the lack of limitations on what we can/can't do. At the beginning of a project, we can focus more on user and businees needs, and worry less about the what the platform can't do. Drupal can do anything. Though some things are harder and more expensive than others.:)
4. What has been the most challenging about working with Drupal?
Three things. The flip side of the unlimited possibilities of Drupal is that picking and choosing what we should do becomes a much more involved part of the process. It has forced us to plan and prioritize and make a product roadmap in ways we hadn't needed to before. Next, switching to a model where customizing the platform is mainly on us means making internal stakeholders understand that changes have a cost. Yes, you can do anything, but everything takes time and/or money. Finally, the admin interface is not friendly or intuitive without a lot of difficult customization, especially for average users used to WordPress for blogging. We've had to spend significant time and money improving the UX of the CMS, and it's still hugely inferior to WordPress.
5. How can the Drupal community better support NGOs in their work?
It would be amazing if there were a structured way for us to put out support tickets to a community of developers interested in non-profit pro bono work. We have a lot of stuff that needs fixing, some of it small and easy, and it would be a great way for developers to help us out. If something like this already exists, and the model doesn't take a ton of time for us to engage in, please let me know!
6. Has "Headless" or "Decoupled" Drupal played a role in your site or will it in the future?
It's something we've discussed to circumvent some of our issues with the platform (see above about admin interface) but we haven't done more than discussed it.
7. How are you preparing for Drupal 8?
Nothing much as of yet.
8. What are some tips you would like to share with NGOs that are considering switching to Drupal?
Be prepared for the shift in how you think about your platform. Drupal gives you great power to control your Web presence. With great power comes great responsibility.

You'll now become a product manager, if you weren't already.
---
Porter Mason


Porter has worked in online communications in the nonprofit world since 2005. Currently, he serves as the Director of Digital Platforms at the U.S. Fund for UNICEF where he develops the organizational strategy on established digital products. Prior to UNICEF, Porter worked for many years at Environmental Defense Fund doing web project management, production and strategy. Porter also does pro bono digital work for some smaller non-profits, such as Reach Incorporated and the Scott Carter Foundation. Porter is a published cartoonist and taught improvisational comedy for many years at the prestigious Upright Citizens Brigade Theatre in New York City. Follow Porter on Twitter.
If you work with a nonprofit and would like to share your Drupal experience, share your experience by filling out this form.